Tag: early childhood fair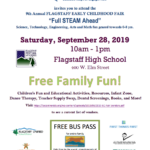 In celebration of young children and to support Flagstaff's Festival of Science, CCC&Y's 9thAnnual Early Childhood Fair will be held from 10 a.m. to 1 p.m. Saturday, Sept. 28 at Flagstaff High School, 400 W. Elm St., Flagstaff.
Because of our wonderful sponsors and volunteers, there continues to be no charge to table at this event.  More exciting, this year we will continue to be in the Flagstaff Festival of Science passport, in addition to other advertising, so we expect this to be a great event for all vendors.