Tag: DEA 360 Northern AZ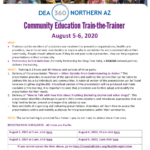 DEA 360 Northern AZ to present Community Educator Train-the-Trainer Aug. 5-6.
Trainees can be members of substance use treatment or prevention organizations, health care providers, law enforcement, civic leaders or anyone who is committed to and concerned about their community. People should attend even if they do not plan to be a presenter…they can help organize presentations in their community.