Tag: Cultivating Wellness Teen Conference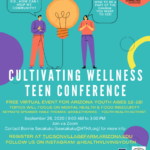 the Cultivating Wellness Teen Conference that will be held virtually on September 26th from 9:00 a.m. to 3:00 p.m.
This FREE conference will feature engaging speakers who will educate and inspire Arizona teens to learn more about food insecurity and mental health wellness in their own communities. The keynote speaker will be Haile Thomas (@HaileThomas), a 19-year old wellness influencer, cookbook author, founder and CEO of a non-profit called HAPPY, and the youngest certified nutrition coach in the U.S.