Tag: Creativity Calling/Youth Open Mic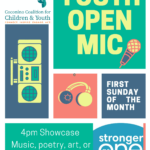 The Coconino Coalition for Children and Youth continues our monthly youth arts showcase. Do you know a youth that loves music, art, poetry, or any form of self-expression?  On the first Sunday of each month at 4 pm, youth from across Coconino County are welcomed into a virtual circle to EXPRESS THEMSELVES!
We began this opportunity to ensure youth were given a platform to share their thoughts, feelings, and talents while connecting to others. Visual and performing arts, such as traditional craft, sculpture, digital art, poetry, dance, film, singing, gardening, and the culinary arts, can have powerful and lasting effects on health. In addition, the arts can enable people to deal with anxiety, depression, and stress by flexing their "creative" muscles. The arts can also boost confidence and make us feel more engaged and resilient. Ultimately, getting involved in arts programs can support youth in expanding social relationships and support in their communities. While connecting with others can help alleviate loneliness and isolation.