Tag: CPLC Parenting Arizona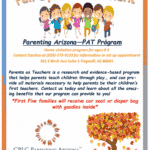 Fall Enrollment is still open for CPLC Parenting Arizona PAT Program.
Parents as Teachers is a research and evidence-based program that helps parents teach children through play and can provide all materials necessary to help parents be their children's first teachers. Contact us today and learn about all the amazing bene- fits that our program can provide to you!
The home visitation program is for ages 0-5