Tag: COVID-19 Fund Grants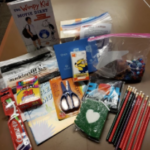 We hope that you are continuing to stay safe and stay positive during these trying times.
To help with the staying positive part, we are very happy to report that grants from the COVID-19 Fund established last week are already going out to recipients.
The first grant, made possible because of your donations, was awarded to the Boys and Girls Club of Flagstaff to help support it's "Club on the Go" bags to keep our kids engaged and active.