Tag: Court Appointed Special Advocates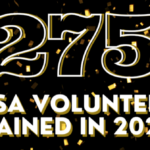 Statewide, CASA of Arizona has trained over 275 applicants to become the voice for children in foster care in 2020. Court Appointed Special Advocates (CASAs) are volunteers who fight for the best interests of children currently living out of home who have experienced abuse and/or neglect.
Under normal circumstances, in-person training is offered to new CASA applicants across Arizona in addition to virtual training. CASA of Arizona is currently only offering virtual training to new applicants due to physical distancing and safety precautions.