Tag: Court Appointed Special Advocate (CASA)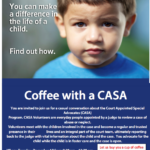 "Coffee with a CASA" will be held from 9:30 a.m. to 12:30 p.m. Tuesday, Dec. 17 at Late for the Train, 1800 Fort Valley Road,, Flagstaff.
You are invited to join us for a casual conversation about the Court Appointed Special Advocates (CASA) Program. CASA Volunteers are everyday people appointed by a judge to review a case of abuse or neglect.