Tag: Community School model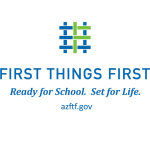 For many families of school-age children, the local school becomes almost like a second home. But what if that critical connection started even earlier – before their children started kindergarten? That's the concept behind the community school model, which integrates academics, health and social services, youth and community development and community engagement with the goal of improved student learning, stronger families and healthier communities.
A year ago, the concept of a community school in Yuma was just a faint dream for the First Things First Yuma Regional Partnership Council as part of their efforts to ensure more children enter kindergarten ready for success. Now, as the school year begins, the regional council is looking forward to the culmination of months of hard work with the opening of a community school pilot at O.C. Johnson School.