Tag: Community College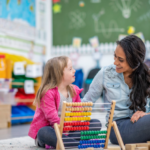 Tomorrow morning, one in five Arizona children will wake up unsure of whether they'll have food to eat in their home. One in ten will face life with a disability. Half will have experienced at least one adverse childhood experience, or trauma.
When kids enter their school building each day, they don't leave these challenges on the doorstep, and it impacts how they learn. Funding hasn't kept pace with the myriad needs today's students face, which leaves schools spending far more on student services than they receive via per pupil funding from the state.