Tag: Colorado Plateau Museum of Arthropod Biodiversity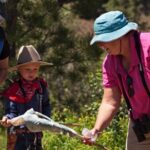 For parents looking for fun and educational activities for their kids this summer, Northern Arizona University's Summer Bug Camp may be the ticket.
Campers ages 7 to 14 will learn about insect natural history and biodiversity through a series of hands-on projects and activities. Campers gather insects for their own insect collections, make mazes for bugs and cook and eat insect cuisine.
The two weeklong bug camps will run from 8 a.m. to 4 p.m. during the weeks of June 22-26 and July 20-24.