Tag: Coconino High School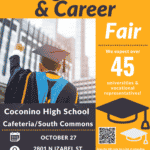 Community organizations are sought for the City of Flagstaff's  "College & Career Fair" from 2:45 to 6 p.m. Thursday, Oct. 27 at Coconino High School, 2801 N. Izabel St., Flagstaff.
Coconino High School, Flagstaff High School and the City of Flagstaff are teaming up to host a Flagstaff, AZ College and Career Fair.
Students from both public, private, and charter schools around Flagstaff are invited to attend.  
Please complete the interest form HERE and update our records with appropriate contact information.