Tag: Coconino County Parks & Recreation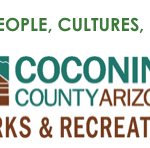 Fort Tuthill County Park is home to many special events during the year. This weekend kicks off the event season. The inaugural Cocodona 250 ultramarathon came through the park this week, and the Diamond O Roping event will be Saturday, May 8, at the Posse Arena. We will add more events to our online calendar as the season continues so check back often.
Parks & Recreation staff are working with special event producers to make sure they submit a COVID-19 plan and follow appropriate recommendations. The Department is utilizing a COVID-19 application for special events reviewed by Coconino County Health and Human Services and the Board of Supervisors. This document is now part of the Department's special event application, evaluation, and approval process.