Tag: Coconino County Health and Human Services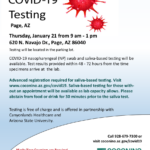 The Coconino County Health and Human Services will present COVID-19 Testing from 9 a.m. to 1 p.m. Thursday, Jan. 21 at 620 N. Navajo Drive, Page.
Testing will be located in the parking lot.
COVID-19 nasopharyngeal (NP) swab and saliva-based testing will be available. Test results provided within 48 – 72 hours from the time specimens arrive at the lab.
Advanced registration required for saliva-based testing. Visit www.coconino.az.gov/covid19. Saliva-based testing for those with- out an appointment will be available as lab capacity allows. Please abstain from food or drink for 30 minutes prior to the saliva test.