Tag: Coconino County Community Service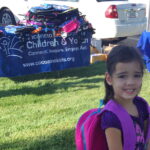 Students received backpacks and school supplies, while their parents received information on after school and other upcoming educational programs at the annual Fredonia Back to School Fair held on Aug. 18 at Fredonia Elementary and Fredonia Middle/High School.
More than 100 backpacks of different sizes were distributed to K-12 students, along with a variety of pens, pencils, notebook paper and other school supplies.
The backpacks were donated by the Coconino Coalition for Children & Youth, with school supplies donated by local real estate agencies.
Some of the participating organizations included the Association for Supportive Child Care and its Growing Up Great Program, CCC&Y, the Coconino County Public Health Services District — Tobacco & Chronic Disease Prevention and Coconino County Community Service and First Things First.