Tag: Coconino Coalition for Children & Youth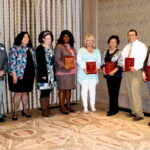 One is an advocate for connecting children in need with a permanent family, another is a strong advocate for mentoring youth, while yet another is a strong believer in the power of education to change the lives of children.
The Coconino Coalition for Children and Youth (CCC&Y) congratulates the 2018 Caring for Children Award recipients. Awardees this year include: Kelly Brown, Clinical Director at Child and Family Support Services; Coral Evans, Flagstaff Mayor and Executive Director of Sunnyside Neighborhood Association of Flagstaff Inc.; Frank Garcia, Principal at Thomas Elementary; Stephanie Jackson, Guide at Grand Canyon Youth and Science Teacher at Flagstaff Junior Academy; Angela Rees, Trauma Therapist & Youth Shelter Clinical Oversight at Northland Family Help Center, and Lina Wallen, Volunteer (CASA, FCRB, CCC&Y, NARBHA).