Tag: Coconino Coalition for Children & Youth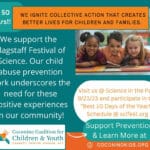 Resilience is not something we expect from children it is something we support in children, families, and communities. Making sure every child and family has the opportunity for exposure to science, role models, caring adults and a big world is what makes this so special.
We support the Flagstaff Festival of Science. Our child abuse prevention work underscores the need for these positive experiences in our community!
Visit us @ Science in the Park 9/23/23 and participate in the "Best 10 Days of the Year!!"
Schedule@scifest.org
Festival Calendar