Tag: Coconino Coalition for Children & Youth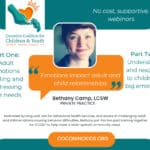 CCC&Y shares this free online opportunity to ease some of the daily stress during this busy time of year.
Motivated by a long wait list for behavioral health services, and aware of challenging adult and child emotions causing behavior difficulties, Bethany Camp put this two part training together for CCC&Y to help meeting a wide-spread community need.
First we learn to understand our emotions and then we can understand and respond to the big emotional responses of children.
Watch Webinar – Managing Adult Emotional Responses, Part One
Watch Webinar –  Helping Children Manage Their Emotions, Part Two
These videos are meant to help support our community.  Having the tools to take care of ourselves and respond to children, is a great resource.