Tag: Coconino Coalition for Children & Youth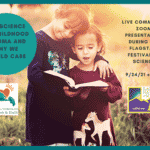 CCC&Y will present "The Science of Childhood Trauma and Why We Should Care" at 4 p.m. Friday, Sept. 24 at the 2021 Flagstaff Festival of Science.
Adverse Childhood Experiences (ACEs) have a large and costly impact on society. Fortunately, with all that we know about trauma and resilience, including the 50-year longitudinal study in Kuai and the groundbreaking ACEs study, we know there is much we can all do. Community awareness and knowledge are important to begin healing.
Join us for this Flagstaff Festival of Science event Sponsored by the Coalition for Children & Youth.