Tag: Coconino Coalition for Children & Youth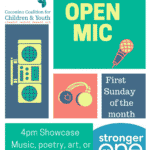 Coconino Coalition for Children and Youth (www.coconinokids.org) is working hard to better understand root causes of trauma and promoting tools for resiliency. We know that social connection is a key protective factor for both youth and families.
During Covid, we began a virtual youth open mic. The purpose is to provide a safe space for youth to express themselves through music, art, poetry, theater, dance, photography, or cultural sharing. The event takes place the first Sunday of each month at 4pm. The next event is scheduled for Sunday, Aug. 7.