Tag: Coconino Coalition for Children & Youth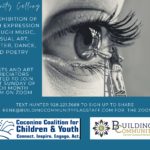 This pandemic is challenging for all of us. CCC&Y has a weekly virtual meeting for parents and caregivers to connect and share resources. We are also launching "Creativity Calling," specifically for youth! This monthly virtual opportunity will provide youth a chance to share their thoughts and feelings through the arts. Any youth interested in sharing their music, visual art, poetry, dance, or theater can text Hunter RedDay at 928.221.3688 to register. Each month four youth will have a 10-minute spotlight. Special thank you to our partner Stronger As One for providing a gift card to a local business. We will enter each month's performers in a raffle for the gift card!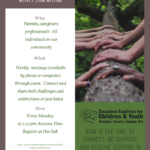 Many of us were taught or developed a belief that depending on others is a weakness. I believe, as do many others, that interdependence is a strength!
I invite you to take a moment for yourself to breathe a few deep breaths. Then ask yourself, how am I feeling? What do I need? Who can help?
Have you ever helped someone without expecting anything in return? How did it feel? Many of us feel good when we are helping others. Why, then, do we often not allow others the opportunity to feel that goodness by helping us?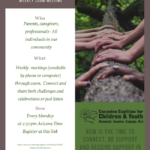 COCONINO COUNTY — The Coconino Coalition for Children & Youth is presenting a weekly Family Connection Zoom Meeting at 2:30 p.m. Mondays.
The meeting is open to parents, caregivers, professionals — All individuals in our community.
Now is the time to connect, be supportive and receive support in a safe and caring environment via zoom or by telephone.
This is an open time to connect with others, share joys, vent some concerns, ask for support, or offer others your support.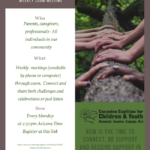 "I do it myself"
This common toddler phrase often makes adults sigh. We want to honor our child's autonomy, but we also realize some things are more manageable with a little help. The same is true in adulthood. As a family, we autonomously choose our traditions, routines, and meals. However, raising children and managing family life is complex. Although some family challenges may be unique, many families share common challenges. And, it is certain…we all deserve support!  …
To support families in making new connections, CCCY partners with Building Community to host a virtual, bilingual Family Connection for families via Zoom.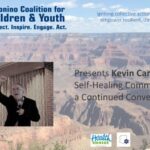 Earlier this month, guests from all over the word attended CCC&Y's presentation of Kevin Campbell's "Self-Healing Communities — A Continued Conversation."
The presentation is now available on CCC&Y's Prevention webpage at Self-Healing Communities with Kevin Campbell. The free program also includes presentation slides and Self-Healing Communities Data from the Robert Wood Johnson Foundation.
"As a testament to Kevin's international work we had participants from England, Canada, the Netherlands, Belgium, Texas, Virginia, Pennsylvania, North Carolina, Arkansas, and of course, all over Arizona," said Virginia Watahomigie, executive director of CCC&Y. "This piece is an argument for moving away from treating individuals, community members and families as the "recipient" of services, from medicalizing unlivable lives, from not acknowledging systems of injustice and a move toward the scientifically-based call to action of participation, truth and community healing."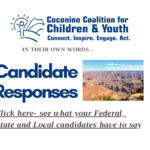 Candidates for elected office through Coconino County and statewide have addressed youth education and child welfare issues with Coconino Coalition for Children & Youth's Candidate Questionnaire Webpage. …
The Coalition has created the short, attached questionnaire so that voters in Coconino County may understand how candidates will respond to issues related to children & youth. Voters will have access to the Coalition's website to compare and contrast candidate responses, see who has responded and note missing candidates.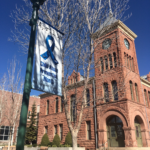 The premise of self-healing communities is individuals within communities hold the wisdom to transform our most pressing community challenges. When the community at large asks their neighbors and community what would be most supportive, listens to their perspectives, and supports a collective response, we begin the process of healing.
Coconino Coalition for Children and Youth (CCC&Y) is leading an effort to facilitate a self-healing county! With such a vast county, where do we start? First, acknowledge YOU are a leader!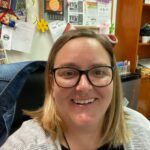 PAGE — Tashina Williams, director of student support services for the Page Unified School District, has been named CCC&Y's Community Ambassador for Page.
The new position will strategically extend CCC&Y's capacity and reach into communities in Coconino County.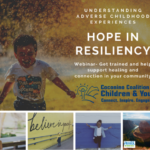 The Coconino Coalition for Children & Youth continued its support of Flagstaff Unified School District's professional development efforts with a virtual presentation earlier this month.
"Through the support of CCC&Y we were able to provide the opportunity for all staff on our professional development day, August 10th  to participate in viewing the webinar: "Understanding Adverse Child Experiences," district officials reported. FUSD reports 1500 professionals were in attendance.