Tag: classroom spending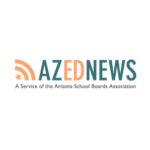 Is the percentage of funding that school districts spend on classrooms going up or down? The Arizona Auditor General's annual report on classroom spending says it was down for the 2015-2016 school year, but a broader definition used by the governor, Legislature and Arizona public school leaders shows support for the classroom is holding steady.
The auditor's report, released March 1, focuses on the category of instruction as the barometer of support for Arizona students, which last year was 53.5 percent of available operating dollars, a slight decrease from the prior year. That includes teachers, aides, substitute teachers, supplies like paper, pencils, crayons, textbooks, workbooks and software and activities such as choir, band, field trips and athletics.
The more commonly accepted way to measure support for student learning in the classroom, however, was 67.4 percent, the same as it was the prior year.
"It's a much better understanding that support is not just what happens in the classroom" but also the services students receive that help them achieve, said Ken Hicks, chief financial officer of Peoria Unified School District.