Tag: CityScape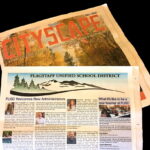 • Want to get information on new administrators joining the Flagstaff Unified School District?
• Want to know what it is like to be a new teacher at FUSD?
• Want to learn what FACTS did during the "Movies On The Square" this Summer?
• Want to find out how MEMS introduced positive changes?
• Want to get the latest information on FUSD's communications program and Snow Day reminders?
Then pick the latest copy of CityScape to see the FUSD four-page newsletter.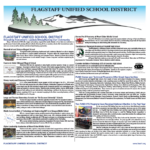 The FUSD Winter Newsletter was published this week in the Winter 2016 edition of CityScape.
The newsletter includes information on magnet and academy programs offered at many FUSD schools, information on FUSD Career and Technical Programs and updates on awards and other honors presented to FUSD principals, teachers, counselors and programs.