Tag: Christine Sapio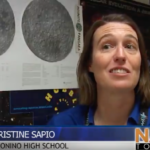 Teacher of the week, Christine Sapio, expresses to her students that science is fun. To accomplish this she likes to change up the curriculum and have her students participate, which are key components. Sapio said, that if students don't have that "Eureka" moment that they won't have anything to relate to. 12th grader, Kaleb Herrelko, said that he can always count on her to be energetic about what subject she is teaching.

After grading the first semester's final assessments, Coconino High School Physics teacher Christine Sapio will drive a group of high schoolers to New Mexico to host a robotics tournament, after the group attended three different tournaments around Arizona in the past week.
Her dedication to bringing interactive and relatable assignments to her physics classes, as well as her time and effort spent coaching and organizing the CocoNuts, the CHS robotics team, earned Sapio the 2016 Teacher of the Year honor at the Governor's Celebration of Innovation last month.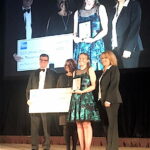 Coconino High School Award-winning teacher and CocoNuts Coach Christine Sapio was honored as the Teacher of the Year at the Governor's Celebration of Innovation Awards on November 10th at the Phoenix Convention Center.