Tag: Chris Reed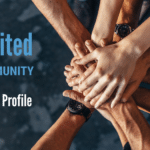 Every member of a nonprofit board brings something special to the table. It could be expertise about governance, an ability to analyze financials, or a passion for advocating about our mission.
One skill all of our board members have is a keen understanding about why the work of United Way of Northern Arizona is needed.
Since 2018, Chris Reed, Senior Pastor of Christ's Church of Flagstaff, has been providing leadership on our board as well as his insights on the programs and services needed by our local youth and the community as a whole.
We hope you enjoy learning more about Chris in the profile below.