Tag: child sex trafficking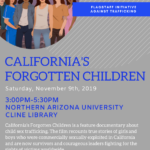 he Flagstaff Initiative Against Trafficking will present a screening of "California's Forgotten Children" from 3 to 5:30 p.m. Saturday, Nov. 9 at Northern Arizona University's Cline Library.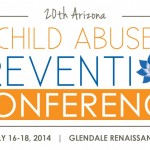 REMINDER- "Prevent Child Abuse Arizona" will be hosting their 20th annual Child Abuse Prevention Conference at the Renaissance Glendale Hotel and Spa. The conference will be July 16th-18th. There will be over sixty workshops on Prevention, Intervention, and Investigation, Keynote Speaker Linda Smith, and more. This conference is different from the one presented by CCC&Y on April 25th-26th.