Tag: child care providers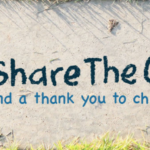 The importance of child care providers to families, to our communities and to our economy has never been clearer than now. Especially in uncertain times, early care and education providers offer families critical support when they need it most.
Child care workers, preschool teachers and friend and family caregivers help our youngest children learn, grow and succeed. The nurturing relationships they build with our children are critical to the healthy development of infants, toddlers and preschoolers.
Over the next weeks, we invite you to show your appreciation on social media by using the hashtag  #ShareTheCareAZ. We've made it easy with 5 simple ways for you to show your support.