Tag: Center for the Future of Arizona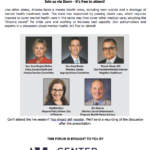 Join us via Zoom – it's free to attend! 
Like other states, Arizona faces a mental health crisis, including teen suicide and a shortage of mental health treatment beds. The state has responded by passing Jake's Law, which requires insurers to cover mental health care in the same way they cover other medical care, adopting the "Arizona model" for crisis care and working to increase bed capacity. Join policymakers and experts in a discussion about mental health. It's free to attend!