Tag: building healthy communities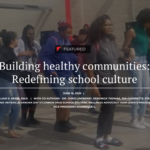 Building Healthy Communities is a concept quickly being embraced throughout America, and this effort to unite communities and schools improves the well-being of all stakeholders.
What has an ideal world looked like for the past few months? What will an ideal world look like in the next few months as students return to school, restaurants open and people continue to unite across America? 
The one thing we are sure of is that building the healthiest social and emotional climate, culture and community should be the forefront of our decisions moving forward.