Tag: Building Community LLC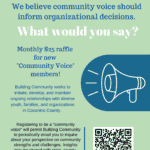 Registering to be a "Community Voice" will permit Building Community to periodically email you to inquire about your perspective on community strengths and challenges. Insights may be shared with state, county and local organizations and decision makers.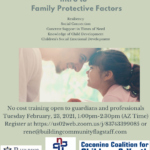 The Strengthening Families Protective Factors framework is a research-based approach to prevent child abuse and neglect, strengthen families, and promote optimal child development. The National Alliance of Children's Trust and Prevention Funds (Alliance) launched Bringing the Protective Factors Framework to Life in Your Work-A Resource for Actionin 2012. When implemented, the framework helps ensure optimal outcomes for children and their families. These strategies strengthen families, develop responsive family support systems, and strengthen the community's capacity to establish safe and healthy environments.  
Building Community, LLC, NACOG Head Start and the Coconino Coalition for Children & Youth are collaborating to present the Intro course virtually. We invite all interested individuals, family service teams, and community leaders to join us on Tuesday, February 23rd, from 1:00 pm-2:30 pm.  The no-cost course will provide an introduction to the protective factors and strength-based theory. 
We all have a vital role in supporting positive outcomes for children and families. We know you will walk away with individual, organizational, and community-based actions to build protective factors for families.