Tag: Black History Month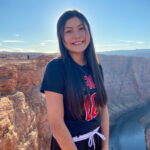 In early December, Neve Redhair learned that she had been accepted to Stanford University.
Redhair, a Page High senior, is an active, Diné student. She serves as the student body public relations coordinator, and she's on the basketball and volleyball teams. She has played on the girls' varsity basketball team since she was a freshman.
When she was a freshman and a sophomore, respectively, she was part of the team that was crowned 3A champions, and last year they took second in state. This year the talented senior was going to be one of its starters and team captains, but the Arizona Interscholastic Association canceled the season last Friday.

The Common Core State Standards Initiative, implemented during the Obama administration, established a uniform set of expectations for American public school students from kindergarten through 12th grade. Still, the authority to establish budgets, standards, and curriculums for public school students falls largely to state governments – and partially as a result, education outcomes vary considerably across the country.