Tag: Birth to Five Helpline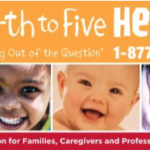 It's been a few weeks now of "stay-at-home" life. We have children home from school and child care, parents working from home, many families find themselves out of work and, on top of this, the news transforms each day before our eyes.
This is a time when we need one another and reaching out to a friend or family member to say hello can be very helpful. But what else can we do to manage our needs as adults? And what can we do to help and support our young children? If you find yourself having more difficulty than expected, seeking out a professional to talk with is a good idea.