Tag: Big Brothers Big Sisters of Flagstaff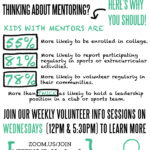 Happy Wednesday to you.
We'd like to invite you to one of our virtual volunteer info sessions today at 12:00 PM or 5:30 PM.
Info sessions are a great time to learn more about our programs and how you can become a Big to a Little in the community! 
Being a Big Brother or Big Sister is one of the most enjoyable and fulfilling things you'll ever do.
Bigs and Littles do simple things together virtually and potentially in person-playing sports, cooking, going over schoolwork, taking walks, volunteering in their communities, or just hanging out together.
We hope to see you soon! If you can't join today – no worries because we host these every Wednesday!