Tag: best gifts for young kids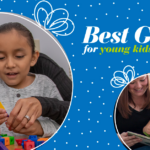 2020 Gift Guide: The best toys and gifts for young children
The holiday season is here, and while it may be different for many families this year, the search for the perfect gift for your little one goes on. Our interactive guide to the best gifts for young kids offers low-cost recommendations for babies, toddlers and preschoolers. Many are free, including the best gift of all: quality time spent playing, talking and reading with you.