Tag: back to school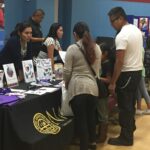 The Flagstaff Unified School District will conclude its annual series of open house nights at 5:30 p.m. Thursday, Aug. 31 at Coconino High School.
Open house nights were presented this past week on Aug. 28 at Flagstaff High School, Aug. 29 at Mount Elden Middle School and Cromer Elementary School; and Aug. 30 at Sinagua Middle School.
Also on Thursday, the FUSD Indian Education Support Program held its annual Back-to-School Night at Mount Elden Middle School.