Tag: back to school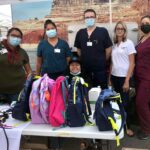 Summer temperatures approaching the 100s didn't deter parents and their school-age children from attending back-to-school health and information fairs recently in Page and Fredonia.
The City of Page and the Coconino County Health & Human Resources presented their Back-to-School Community Resource Fair, COVID-19 Vaccination Clinic on Saturday, Aug. 7 at Page High School.
CCC&Y joined other partners in the event which drew dozens of families who received backpacks and other school supplies and child resource information from the Arizona Early Intervention Program, AZ Health Zone, Canyonlands Healthcare, Coconino Community College, Coconino County Health & Human Services, Native Americans for Community Action and other organizations.