Tag: Back to School Safety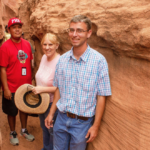 Twenty-four newly hired teachers, and two newly-hired counselors, two weeks ago spent a day learning about Navajo culture and traditions as part of their new teacher orientation. About 78 percent of Page Unified School District's student population is Navajo, and they come from a broad spectrum of backgrounds, home situations and lifestyles.
"It's something we do to teach our new teachers where their Navajo students are coming from," said PUSD Human Resources Director Terry Maurer.

Parents are breathing a sigh of relief as kids return to school. For so many of us the end of summer means regaining our daytime freedom. No more… "I'm hungry" or "I'm bored" as we drop our kids off at school or load them on the bus and send them on their way.
This time of year, may be a relief for parents everywhere, but for many this time of year invokes anxiety and frustration. Increases in local traffic, cross walks delays, and kids along the roads confirms the summers is drawing to a close.