Tag: AzCAN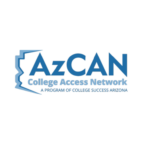 Our organization has changed since 2005, when former Governor Janet Napolitano, met with key education stakeholders to develop what was then the Arizona College Scholarship Foundation.
Since that time, we've provided over $15.4 million in scholarships and success services to more than 1,100 Pell Grant Eligible Arizona students, attending Arizona colleges and universities.
In 2014, we became College Success Arizona, to better fit our enhanced mission and vision. When we changed our name, we also debuted the College Success Arizona website. That was a little more than two years ago, and now we've expanded again.
With the additional services we provide, we felt it was time for a website refresh. Working with local vendor, Falling Up Media, an enhanced collegesuccessarizona.org was unveiled on July 25th.