Tag: AZ Graduate Recognition Day!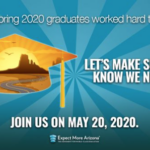 Arizona Graduate Recognition Day is tomorrow, May 20!
Don't know anyone who is graduating from high school or college? Doesn't matter. This special recognition day is about the entire state coming together to make sure all graduates know Arizona is proud of their accomplishments.
Check out our website to read about how some schools and businesses are planning to celebrate and find ideas to get involved at home. Resources are available in English and Spanish.