Tag: ASU Family Violence Center's Arizona Child & Adolescent Initiative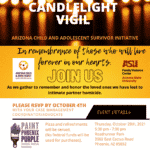 The Arizona Child & Adolescent Survivor Initiative (ACASI) is hosting Candlelight Vigil "In remembrance of those who will live forever in our hearts" from 5:30 to 7:30 p.m. Thursday, Oct. 28 at Roadrunner Park, 3502 E. Cactus Road, Phoenix.
As we gather to remember and honor the loved ones we have lost to intimate partner homicide.
Please RSVP by Oct. 4 with your case management coordinator/advocate.