Tag: arizona's children association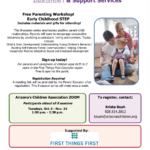 The Arizona's Children Association will present an 8-week Virtual Parenting Workshop: "Early Childhood STEP" on Tuesdays from Oct. 6 through Nov. 24.
Includes materials and gifts for attending.
The 8-session series emphasizes positive parent-child relationships. Parents will learn to encourage cooperative behaviors by providing a consistent, loving environment.