Tag: Arizona State University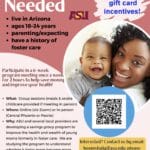 Mothers Needed.
Arizona State University and several local providers are developing a savings group program to improve the health and wealth of young moms formerly in foster care. We are studying the program to understand whether it helps mom become more successful.
Participate in a 6-week program meeting once a week for 2 hours to help save money and improve your health!