Tag: arizona school boards association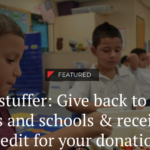 If you'd like to help students, teachers and schools then set aside a little time this holiday to learn more about tax credit donations to help a program of your choice at Arizona public schools.
These tax credit donations allow Arizona taxpayers to give to Arizona public school programs that have meaning for them and receive a dollar-for-dollar tax credit for qualifying donations – up to $200 per individual and $400 per couple.
You can make a general tax credit donation to a school or an activity-specific donation and donations made between January 1 through April 15 of the calendar year, may be used as a tax credit on your prior year's tax return.