Tag: Arizona regents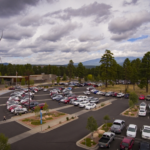 Coconino Community College has begun distributing money to qualified students from the federal CARES Act stimulus package.
About $550,000 is being awarded to qualifying students for the spring and summer semesters.
The current estimate is that 744 students qualify for the $600 CCC CARES Act Grant for the current spring semester because they were impacted by the COVID-19 crisis. The remaining $100,000 will be used for CCC CARES Act Grants for summer term students.
"This is an excellent opportunity for qualifying students at Coconino Community College to receive the assistance they desperately need during these challenging times," said CCC President Colleen A. Smith, Ph.D. "Our Financial Aid Department is running the award process today to get those needed funds granted to our students."