Tag: Arizona Legislature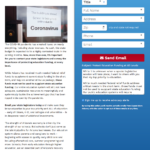 The COVID-19 pandemic has wreaked havoc on nearly everything, including state revenues. As such, the state budget is expected to be a highly contested topic in the coming months. Now, more than ever, it's important for you to contact your state legislators and convey the importance of protecting education funding, at every level.
While Arizona has received much-needed federal relief funds to supplement current state funding in the short term, and may see another stimulus package, those funds must not be used to supplant state education funding. Our entire education system will still not have adequate, sustainable resources to meaningfully and systemically tackle the achievement gap that has been ripped wide open by the pandemic.
Email your state legislators today and make sure they know education is your top priority and ALL of education – early childcare, K-12, and colleges and universities – is in desperate need of additional investments.