Tag: Arizona Early Intervention Program (AzEIP)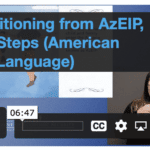 The AzEIP office is excited to announce the release of our Transition overview video, Transitioning from AzEIP, First Steps, available here: under the Arizona Early Intervention Program and the Information for Families about AzEIP sections of the AzEIP website! 
This video is meant to be a tool for service coordinators or other early intervention team members to assist families in understanding transition and may be used in conjunction with transition resources already in existence, including our recently released Transition Guide for Families. Our hope is that having this additional family-friendly resource will assist in making the transition process as smooth as possible for all involved.