Tag: Arizona Department of Economic Security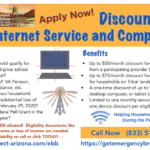 The Emergency Broadband Benefit (EBB) is an FCC program to help families and households struggling to afford internet service during the COVID-19 pandemic. This new benefit will connect eligible households to jobs, critical healthcare services, virtual classrooms, DES Services, and so much more.
The DES Office of Community Engagement would like to share with you information about this program. The EBB program opens on May 12, 2021 for eligible individuals and households to enroll. Below is additional information and the link to the Toolkit.