Tag: Arizona Daily Sun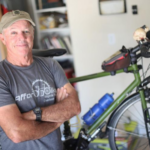 In 2004 Derald Cox retired from his position as assistant principal and athletics director at Flagstaff High School. In the 15 years since, he's bicycled 211 days and 11,377 miles across 30 states — recently completing a perimeter around the entirety of the United States on his own two wheels.
It's clear Cox also used to be a math teacher because he's even calculated the number of revolutions his tires have taken in those years: just over 8 million.