Tag: Arizona College Access Network (AzCAN)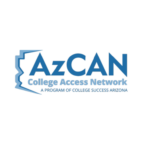 CAP Training: Building a College-Going Culture for All Students
October 14 – November 8, 2019
This module, developed for practicing professional school counselors, pre-service school counselors, and college access advisors. These sessions are designed for school counselors and college access professionals to develop an understanding of their roles in developing a college-going mission for all students. Additionally, the sessions help participants develop approaches for communicating and working with low-income students, those who would be first in the family to attend college, and diverse populations to remove barriers to high aspirations and achievement. Register now.