Tag: Arizona College Access Network (AzCAN)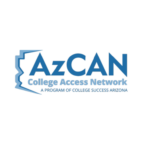 Webinar: Supporting Undocumented Students: 101
November 17, 2:00 – 3:00 PM
This workshop, featuring Scholarships A-Z, aims to open the door to exposure for educators on how to work with undocumented and DACAmented students specifically in applying to aid for higher education. We will cover the DO's and DON'Ts of FAFSA, how to navigate these conversations with students of various immigration statuses, and state-wide and nationwide resources available to help further educator's understanding of the topic.
Register now.