Tag: Alexander Casady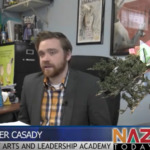 Friends, Students and Collleagues of Alexander Casady say he's a teacher who goes above and beyond in everything he does, both in and outside of the classroom.
The Flagstaff Arts & Leadership Academy teacher designs all his lessons and materials from scratch and teaches with the mindset that, if you are invested in the learning experience, the learning will come naturally. Students say his lessons make them truly care about what they are learning.