Tag: Adverse Childhood Experiences (ACES)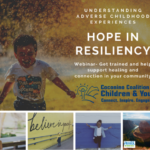 It is not easy to write this message.  I, just like many of you, have found myself filled with many emotions ranging from deep sadness to raw anger.  Many of us around the Nation are trying to find our voice, our place- ideas for how we can make a positive impact.  CCC&Y has a long history of advocating for and working toward justice and equity for our community.  
I was scheduled to present the Adverse Childhood Experiences (ACES) / resiliency training live this week for a school district.  I was re-struck, while speaking with these educators, by how relevant the work of CCC&Y is- even during current times.  I felt gratitude for this connection and all of you who further this work.    
If you have not done so already, I would invite you to visit our webinar on ACES.  It will help you to gain personal insight into what happens to people, what we do to people and how society can choose to make trauma worse or better for folks.  That insight then becomes sharable.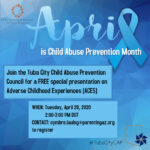 The Tuba City Child Abuse Prevention Council will hold aFREE presentation on Adverse Childhood Experiences (ACES) from 2 to 3 p.m. Tuesday, April 28.
Contact cymbre.lauing@parentingaz.org to register.