Tag: Adolescent Health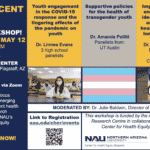 The free workshop Adolescent Health will be held from 9 a.m. to 3:30 p.m. Thursday, May 12 at the 1899 Ballroom — High Country Conference Center, 307 W. Dupont Ave., Flagstaff. Lunch will be provided or join remotely via Zoom.
This free workshop will focus on various aspects of adolescent health and will feature the research of three early-stage investigators from Northern Arizona University's Center for Health Equity Research (CHER): Linnea Evans, PhD, CHER and the NAU Department of Health Sciences; Amanda Pollitt, PhD, assistant professor, CHER and Health Sciences; and Amanda Hunter, PhD, MPH, Postdoctoral Scholar, CHER. Regents' Professor Julie Baldwin, CHER director, is the moderator.