Tag: Action and Outreach Initiatives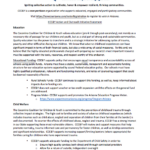 The board of the Coconino Coalition for Children & Youth voted on Jan. 27 to approve a series of Policy Initiatives for 2020-21.
The policies cover education, child welfare, environmental equity, incarcerated parents / justice reform and Deferred Action for Childhood Arrivals (DACA).
CCC&Y is a non-partisan organization that supports an educated and engaged voting population that participates in our democratic process.